Welcome to summit city brewerks!
If you like any of these things you should probably give us a visit... Great locally made beer, delicious food, great service, local wine, ciders, live music, drinking outside, drinking inside, pool, fun for the whole family, darts, board games, trivia, friendly people, old buildings, supporting local business, more great beer, ok you get the idea.

If a picture is worth a 1,000 words, here are 12,000 of them.
---
Seating

Seating is available at tables, booths, pub tables, picnic tables, or at the large custom granite bar. Been sitting at a desk or driving all day? There is also a lot of great standing area with drink ledges to stretch your legs and for crowded times. Pub space is approximately 3500 square feet with a current occupancy of 165. Recently added is our family friendly seating and new patio out back.
---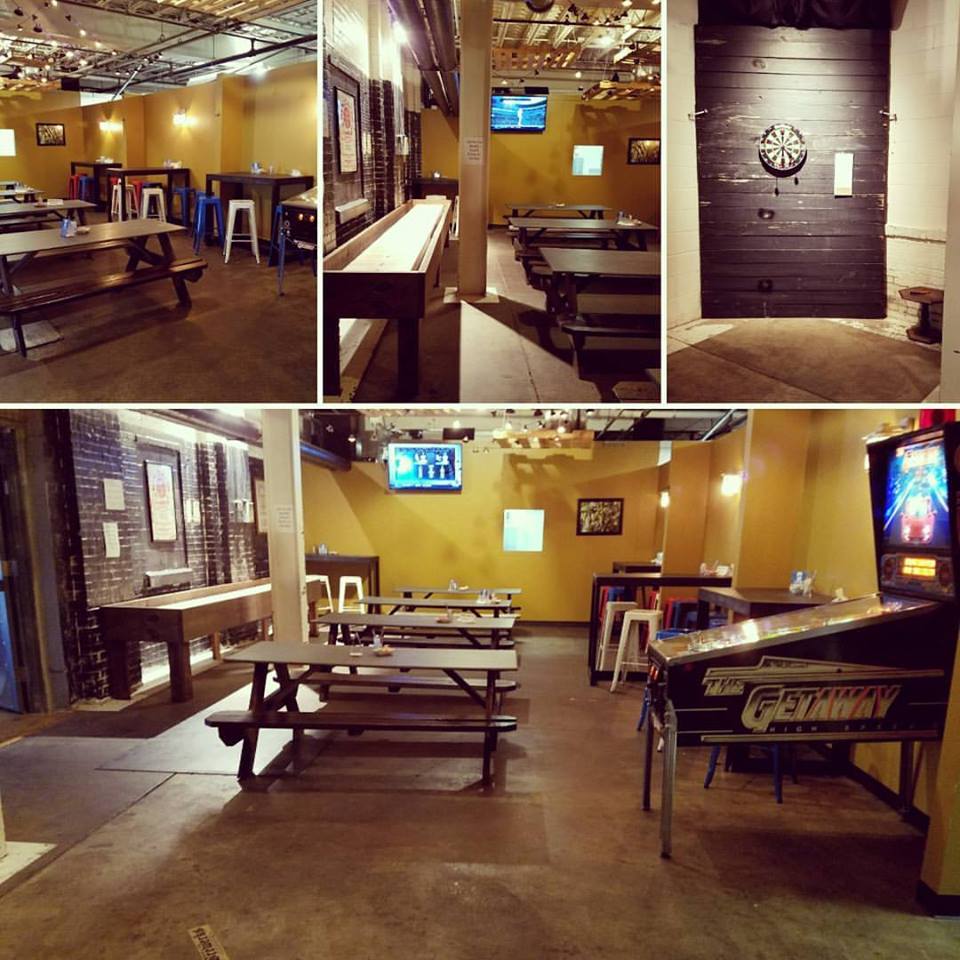 Do you have a party to plan or host for 20-40 people? Our kid friendly private party/game room is perfect for birthday parties, bachelor/bachelorette parties, business get togethers, or just a fun night out. Here's what our party room has to offer:
Darts
Shuffleboard
Pinball machine
Boardgames
Chalkboard Tables
Flat screen TV
Boardgames
Outdoor patio adjacent to party room available to enjoy (outdoor area not included as private & weather permitting)

Outdoor games including cornhole, giant beerpong, and beersby
​
Need custom catering, we can do that too. Don't spend all week cleaning the house, just email us for more information and to reserve your party today. email: david.summitcitybrewerks@gmail.com
---
History

Summit City Brewerks is 100% locally owned and operated by partners Will Long and David Tomaszewski. For the past 3 years Summit City Brewerks have set themselves apart with their creativity and variety having released over 450 different brews. Despite starting the brewpub with a tiny fraction of the budget most breweries begin with, SCB has managed to squeeze every ounce of efficiency and quality out of what they started with. Thanks to their amazing staff, great beer, and delicious food, SCB was quickly in a position to grow. Last Spring, after only being open for a little over a year, work began on the expansion. After nearly a Now with new equipment, more space, more time to devote to brewing, and better controls they will be well prepared to elevate the quality and consistency by offering about a dozen year round brews that have proven popular. They will also have many seasonals available every year. But don't worry, they don't plan to stop experimenting any time soon. There will continue to be a constant array of one off experimental batches to try. SCB is also preparing to ramp up their sour ale program with a dedicated sour fermentation room and dozens of barrels of sours that have already aged nearly 2 years. Our short history has been great but our future is even brighter.
---